Source: University of Seville Library, 2023
The Library of the University of Seville recently published this new exhibition presenting Filippo Bonanni's "Gabinetto Armonico". This work serves as a classification for musical instruments based on its sound production system. The first edition was published in 1722 and it was extended the following year. This 1723 edition was a reprint, but included 11 new engraved plates. Later, a second edition was made with a Frech translation in 1776.  We are particularly interested in the global vision of this catalogue, which includes instruments from four different continents.
Filippo Bonanni was born in Rome in 1638 and entered the Society of Jesus in 1654. He studied at the Society's noted Roman College, where he became a pupil of the German scientist called Athanasius Kircher. While a student there, Bonanni undertook the manufacturing of microscopic lenses and developed scientific studies of several specimens. 18 years after Kircher's death, he was appointed curator of this well-known collection. The Roman College asked Bonanni to take on the project of publishing a catalogue of Kircher's museum and, after a decade of work, he published "Musaeum Kircherianum" in 1709, a large book of almost 800 pages that listed all the objects in the collection, many of them illustrated by him.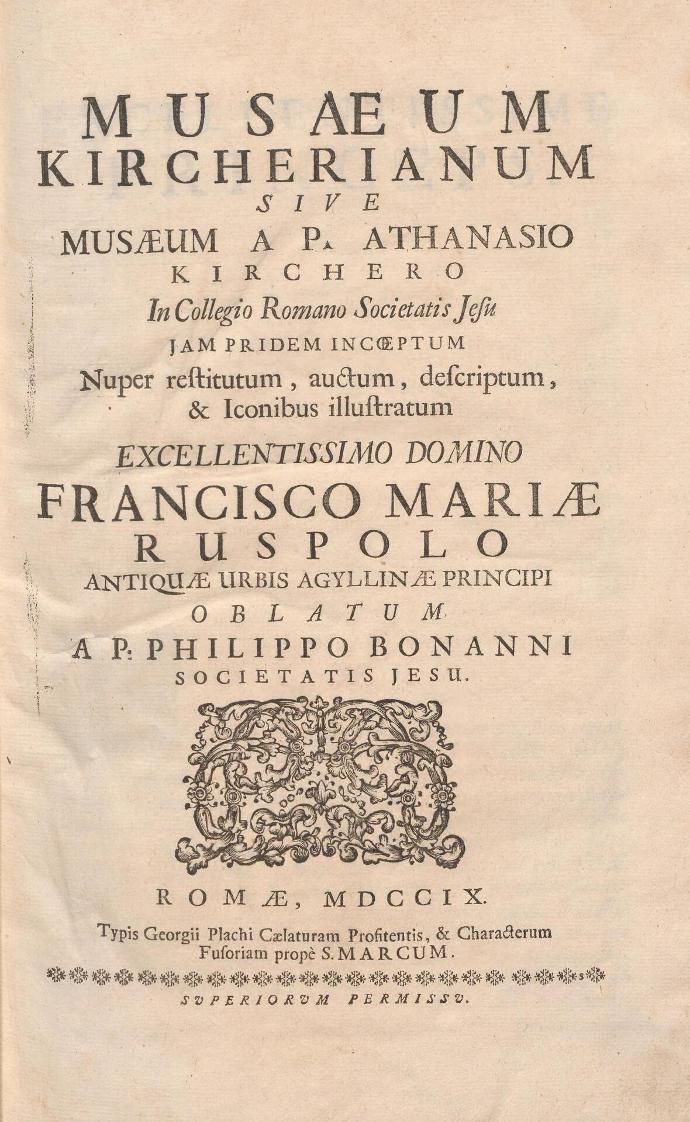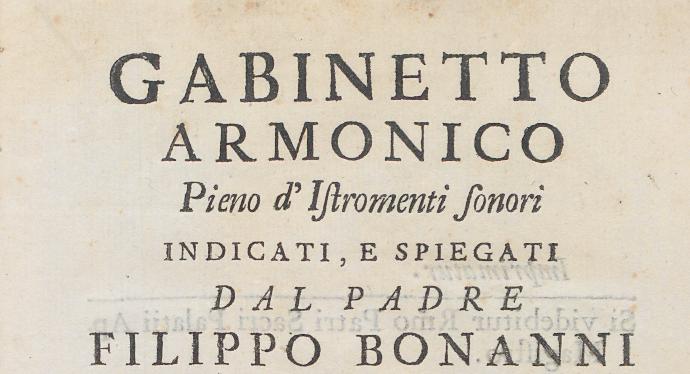 About this work
In 1722, inspired by the instruments collection in the museum, he published "Gabinetto Armonico pieno d'istromenti sonori", a book with 152 engraved plates about instruments divided in three sections (wind, string and percussion) preceded by brief discussions about others musical categories. Some of the instruments are simple, while others are highly elaborated technical machines.
This book is a collection of pictures of musical instruments all around the world, divided into three sections (wind, string and percussion) with a brief but insightful text for each instrument. Apart from instruments, it also presents musicians and details about ethnographic encounters. The book is a mixture of antique and popular elements, and fits the tradition of travel writing and catalogues of foreign towns. Bonnani is part of the scholarly and scientific tradition of the 17th century, and tried to compile the knowledge about musical instruments in universal knowledge.
We encourage our readers to explore this amazing collection of engraved plates about musical instruments in the Expobus portal. We assure you will find many instruments you have never seen before. Here are some of our favourites: 
About the Expobus portal
The University of Seville Library, specifically its Antique Collection section, has been publishing virtual exhibits for over a decade. In 2015, the software Omeka was introduced to elaborate exhibits; in 2018, it was upgraded to Omeka S, a more recent version of that software, always counting with Libnamic's assistance.
It is one of our most prolific clients when it comes to creating exhibitions. The interest they have in historial heritage and the quality of the content that they create makes Expobus a portal we always recommend visiting.